No matter that the OnePlus 3 and 3T got their security patches before the 5 and the 5T and the wait was worth it. The 5 and the 5 at are geared up with some brand new features.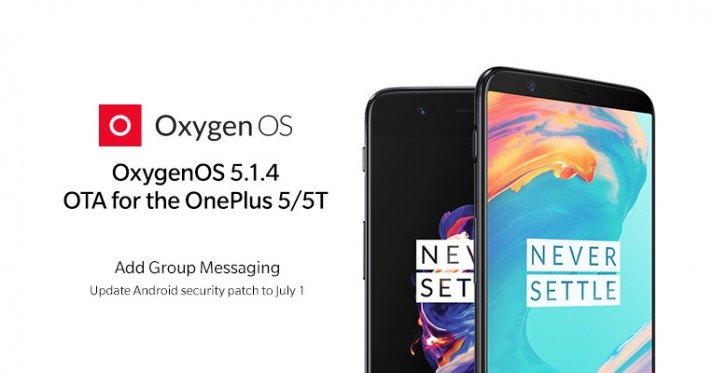 The OxygenOS 5.1.4 OTA update will the July 2018 security patch update. This update brings a cool battery related feature that is the "Sleep Standby Mode," which reduces the amount of power drained while the device is not used.
In the OnePlus forum post, the company explains that the device intelligently tracks your usage patterns and when you are not using the phone at some point of the day or just laying on the bed, it turns off all networks in order to save on battery life. It will then cancel any network restrictions and get out of Sleep Standby right before you wake up, so you don't miss on any important notifications.
Further down the list, the changelog outlines a new Group Messaging in the default messaging app and some general bug fixes. Once again, the camera software has been improved, but not much detail has been given. Anyway, you can see the full changelog below:
Updated Android security patch to 2018.7
Added sleep standby optimization (Settings -> Battery -> Battery optimization -> Advanced optimization -> Sleep standby optimization)
Improved photo clarity
Added Group Messaging
General bug fixes
This update doesn't bring any of the changes promised during Open Ears Forum in India, but they will probably be implemented in the following patches. Also, we are eager to see Google's Project Treble make its way out of beta
And please remember this and don't try downloading the update via VPN, it's a staged rollout to a random number of devices and not region-specific.