Season 2 of Apex legends is revealed and is named as Battle Charge, the season will be launching on July 2. With the launch of the new season, new legend Watson, a new weapon L-Star and information on the new battle pass is aslo revealed.
The New Battle Pass
The new battle pass will be a challenge based rather than time-based. According to Drew McCoy, Executive producer of the game, the challenges will stack up if they don't play very often and the player can complete the challenges in a spree on a weekend, but that doesn't mean that levelling to level 100 would be very easy or fast.
"While we don't want to introduce wacky challenges that drastically warp the way you play the game, these challenges should provide some interesting variation from game-to-game," lead product manager Lee Horn explained. "This means all players should feel more rapid Battle Pass progression and the journey will hopefully be more fun and interesting. Also, this addition should allow players who can only dedicate a few hours a week to the game to make a very deep cut into their Battle Pass progression."
No more badges and stat trackers crowding the battle pass rewards:
In the new battle pass rewards will have fewer badges and stat trackers. Actually, it will offer only one badge that will evolve as you progress. All the seasonal win trackers will be in the free version of the Pass, and all of the trackers can be earned by Level 10.
The battle pass will include more legendary rewards, players with a premium battle pass will have the chance to win 5 legendary items on the way of reaching level 100. A nice balance of cool character exclusives and cosmetics for everyone (like weapon skins) will be available in the whole course of the battle pass.
The final Legendary reward will be an evolving weapon skin with a recoloured variant at level 110. The pass will even include 1,200 Crafting Metals (replacing new voice lines), which is enough to create another Legendary of your own choosing.
New Legend Watson: Static Defender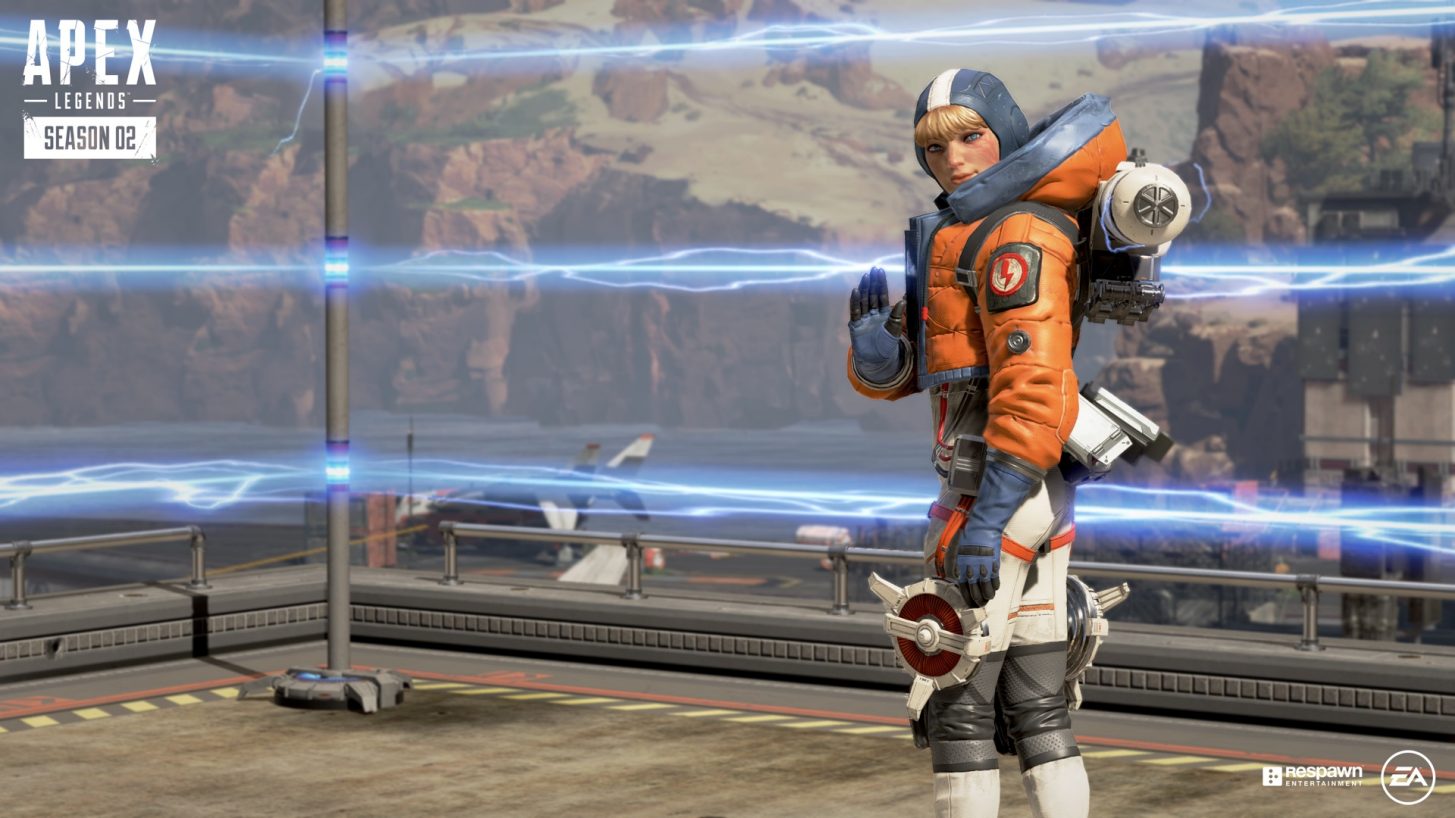 Natalie "Wattson" Paquette, daughter of the Games' lead electrical engineer, her story is that after her father's death she was left alone and then a group of competitors invited her to return to the arena with them, assuring her she would always have a home. She now fights alongside her friends in the arena she helped build, destroying incoming missiles, recharging shields, creating fences, and using her pylon to silence fights that get too loud. Nobody knows the arena better than Wattson.
Her tactical ability creates electrified barrier (nodes) to block off areas which teammates can pass through. It benefits players who really know the map and can be used in a variety of ways, perhaps to trap players outside of the safe area or defend a building you're camping in. You can place 12 nodes at a time wherever you want.
Her ultimate ability is to place an interception pylon that creates a barrier that can destroy incoming missiles and grenades. And the passive ability is using the ultimate accelerants, to fully charge her Ultimate Ability, and teammates standing near interception pylons boosts their Tactical Ability recharge.
According to the creators of Watson, you stack Ultimate Accelerants throughout the course of a match, you can place down an absolute shed load of electric fences and have a serious advantage going into the tail end of a match.
The New Gold Tier Weapon L-STAR
Coming during Apex Legends Season 2 is the L-STAR plasma rifle, which is exclusive to care packages like the Mastiff and the Kraber. It's a fast-firing automatic gun that can knock down doors, putting it in an exclusive club with melee attacks and grenades. Probably the weapon also has a single fire mode which fires a big charge of plasma. The L-STAR was first seen in Titanfall 2 and has been teased for over two months at this point to come to Apex Legends since one (un?)lucky player discovered an L-STAR skin in a loot box way before they were meant to.
With the new weapon most probably the worst weapon in the game, yes Mozambique will get a buff, with the use of attachments. Speaking of attachments more attachments will be coming in the season 2. With that said this is just the most important or a few updates of the season 2.
This image on the Apex Lengend's blog shows that there are map changes coming or an all-new map is dropping in the new season
Right at the start of the Apex Legends EA Play showcase, the term "map events" was used to tease even more new things coming in Season 2. This could mean Apex is introducing limited time modes to the game next season in the same style as Fortnite or as mentioned before a whole new map is coming.
At the very end of the conference, a big monster eye and a legend flying past it appeared, and then this was the only teaser we got, so the theory is that it was a Leviathan eye – the same huge monsters stood in the water to the south-east of the map. Leviathans have been a thing throughout all of Titanfall and they would make sense here, although the eye may have been too big even for that idea. Either way, it looks like Respawn are working on a lot of new content to pull players back in ready for Season